Executive Chef David Solorzano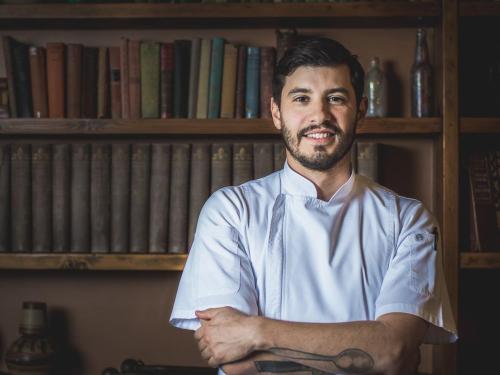 Executive Chef David Solorzano's culinary education began at an early age. Growing up in both Southern Arizona and Central Mexico meant helping tend his family's gardens. His youthful wanderlust led him to the Alaskan Coast, spending his formative years elbow-deep in the freshest ingredients on halibut and salmon boats. Chef Solorzano worked toward a degree in Fine Arts until his time spent at his uncle's restaurant helped him discover his calling.
After graduating from Scottsdale Culinary Institute, Chef Solorzano worked in several Phoenix-area restaurants, including Vincent on Camelback and Ayako of Tokyo. Moving to Tucson, he began working with Chef Bruce Yim at Vin Tabla and Chef Chad Luethje at Miraval Resort and Spa, honing his craft in mindful cuisine. He then opened a food truck, Animal Farm, collecting accolades like "The Best Food Truck in Tucson". His passion for sustainable ingredients led him to develop long-lasting relationships with local artists, farmers, ranchers, and dairy producers. In his next role as Chef de Cuisine at Hacienda del Sol, he worked closely with local purveyors while developing and preparing an innovative, seasonal menu.
Chef Solorzano continues to push and develop Tucson's culinary scene as Executive Chef at Cielos. His playful take on classic dishes highlight the local products and seasonal ingredients of the region.